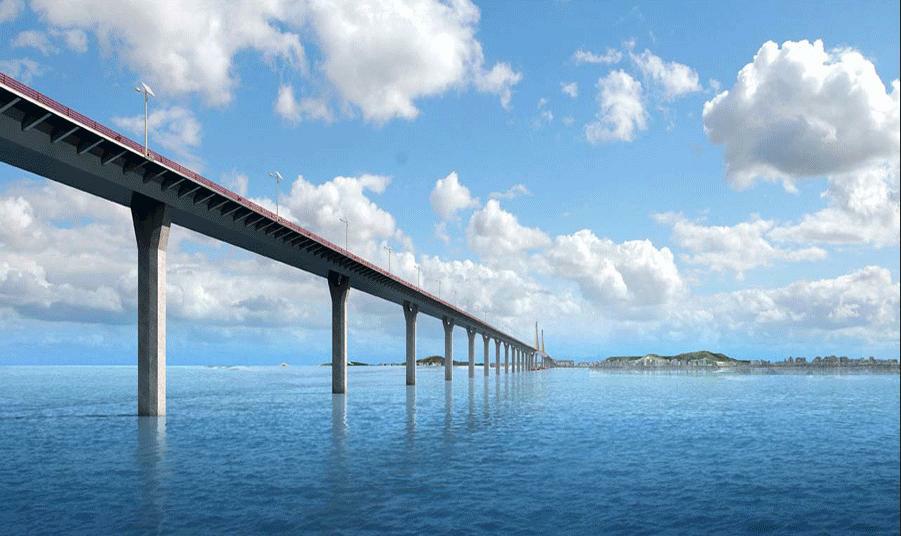 This week features another mega project from the Hong Kong-China region, an engineering feat that will create the longest bridge-cum-tunnel sea-crossing with dual 3-lane carriageway which is due to complete in 2016.  This project is initiated by the Hong Kong Highways Department to increase land transport connectivity and reduce the travel time by 90%. The construction of the Hong Kong-Zhuhai-Macau bridge [HZMB] commenced in December 2009.
The total length is about 42km, counting from the Hong Kong Boundary Crossing Facilities at the east to the Zhuhai/Macao Boundary Crossing Facilities at the west. The stretch consists of 2 artificial islands, a potential landmark that reflects Hong Kong as a metropolitan city. The seawall of the artificial islands were formed by sinking large diameter circular steel cells through the soft marine mud, building a foundation to last for at least 120 years. Design ideas competition was held for the boundary-crossing facility in the early 2010 and shortlisted entries are mostly from Hong Kong, and then a few others from Egypt, Netherlands, Austria, Russia and China. 
The HZMB construction environment is complicated . It has to withstand the frequent typhoons, manage crisscross navigation, comply to the airport height restrictions and the high environmental standards, backed by thorough researches and analysis to ensure that the water quality and ecology [including geological aspects] of the sea will not be compromised.
Construction is now well underway since the last batch of cylinder piles arrived at the end of 2011. Some of the featured design ideas can be found here.
Designed by : MUI Kui Chuen, LEE Chiu Ming, HUNG Oi Kee (Hong Kong), 1st place (Professional Category)
Designed by : CHAN Kin Kwok, NG Man Hoi, WONG Chin Keung (Hong Kong), 2nd place (Professional Category)
Designed by : CHEN Siming, Xincheng,WU Liang, ZHOU Jin, HE Yuxin, YANG Yimin (China), 1st place (Open Group)
Designed by : Ma Tze Chung, FOK Wei Yue, STRZELEC Dominik (Austria), 2nd place (Open Group)